Anonymous for Animal Rights
Fighting for the hundreds of millions of animals exploited in Israel
Anonymous is a registered charity promoting animal rights in Israel. Animals are not meant to serve us humans as mere means for food, clothing, entertainment or research; they deserve to live their lives free from suffering and exploitation. This is their basic right, whether we know and love them up close, or they're anonymous creatures, hidden from our view in remote intensive farming facilities.
Some of Anonymous' Achievements
Our successful campaigns include:
Stopping the force-feeding of geese and ducks (over 800,000 annually);
Stopping the water deprivation and isolation of veal calves;
Banning the dehorning of cows without anaesthetics;
Stopping vivisection in schools;
Banning the use of wild animals in circuses;
Banning foreign circuses where wild and domestic animals are abused from performing in Israel's main cities.
Some of the cruelties against animals which were banned in Israel thanks to Anonymous campaigns: Isolation and water deprivation of calves; vivisection in schools; force feeding of geese; dehorning and tail docking without anaesthetics; training and transporting circus animals.
We have enlisted tens of thousands to our campaigns:
We hold regular information tables in Israel's large cities and at special events;
Each year, around 15,000 people engage in conversations with activists by our information tables and pickets; over 200,000 people annually read our leaflets and brochures;
Our weekly e-zine has been running regularly for a decade (sent today to 32,000 subscribers); the Anonymous website is the largest and most important collection of information regarding animal rights in Hebrew;
We've developed a lecture programme for both teenagers and adults across the whole country; in Tel Aviv and Petah Tikva, the local authorities sponsor our lectures, which about 40,000 people attend annually in schools, youth organizations etc.
We introduced change within the Israeli establishment:
Our fact-finding team uncovers information which then forms the basis of legal action, legislation and media exposés;
We are responsible for animal rights issues being aired in the mass media several times a week;
We have promoted regulations and laws for protecting animals and were engaged in legal battles against abusers and the Ministry of Agriculture, thus creating important precedents for the future;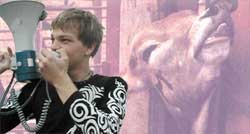 There are many animal welfare organizations in Israel, most of which excell in their respective areas of concern. Our main concern is different: The public campaign against factory farming, which causes suffering and death to hundreds of millions of animals in Israel each year.
Click here
for an article published in The Jerusalem Post about the Anonymous campaign
Join, Volunteer, Donate
Anonymous is a non-profit organization whose work is done by volunteers. We are funded by donations – from private individuals and various funds. You can help us extend our important activities and strengthen our influence over the Israeli establishment, in whose hands rests the fate of hundreds of millions of helpless animals.
"The animals of the world exist for their own reasons. They were not made for
humans any more than black people were made for white, or women created for men."
Alice Walker
Anonymous for Animal Rights, P.O. Box 20544, Tel Aviv 6120401, Israel
Tel +972-3-6204878; fax +972-3-6204717
info@anonymous.org.il
http://anonymous.org.il/art480.html
Translated by Doron Greenshpan