The Struggle to Shut Down
the Mazor Primate Breeding Farm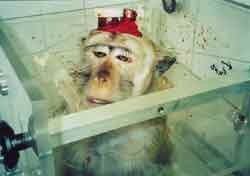 Click here
to see the underground video of Malish (warning: not easy to watch!)
The BFC farm, located in Moshav Mazor, has been breeding monkeys for experimentation abroad for over 12 years. About 1,000 monkeys are held in the farm, and every year, the farm sends hundreds of baby monkeys to a life of suffering, pain and misery in UK laboratories. The Mazor Farm operates against Israel's official policy, which specifically prohibits import and export of primates except in special cases of the primates' own rehabilitation or rescue. A recent report by the
RSPCA
has stated that the Mazor Farm sold the UK many "first generation" monkeys, i.e., monkeys whose parents have been captured in the wild and brought to Israel.
Most experiments conducted on monkeys have nothing to do with advancing human medicine. They are labeled as "basic research", that is, research conducted for the expansion of general knowledge and to satisfy scientific curiosity. For these experiments monkeys are held in small cages for years, and are subject to intrusive surgery, electric shocks, forced drug addiction and other atrocities. In order for them to cooperate, the monkeys are often deprived of water for long periods of time. Some of the experiments are conducted without the use of anesthetics or analgesics, so as not to affect the normal operation of their brain.
Although the Mazor Farm owners repeatedly claim that experimentation on monkeys may someday lead to the development of cures to human illnesses such as AIDS, Alzheimer's and Parkinson's Disease, the truth is that nonhuman primates are unable to serve as models for these human-specific diseases. Therefore, conclusions from these experiments are not applicable to humans.
For example, the experiments on Malish, a macaque monkey who was born in the Mazor Farm, which took place in Dr. Ehud Zohari's laboratory in the Hebrew University in Jerusalem and lasted almost three years. This experiment, which was secretly filmed by the Israeli Society for the Abolition of Vivisection, yielded the conclusion that long-tailed macaque monkeys tend to categorize images, shown to them on a computer monitor, by their ordinal number. For this article, Malish was caged for years, along with three other monkeys from Mazor Farm, inside a barren basement in the Hebrew University. Malish underwent surgery that included removing a part of his skull so electrodes could be inserted into his brain, and was deprived of water for 72 hours before each experiment, so the researchers could give him two drops of juice as a reward for identifying the correct image. Throughout the experiments, Malish and his friends were restrained in a "monkey chair" - a device that prevents them from moving their limbs and head.
Brain research experiments are an archaic, cruel science. Today there are reliable, accurate techniques for mapping areas in the brain by non-intrusive, painless methods, which can be applied to human volunteers without jeopardizing their safety.
The Mazor Farm operates for export purposes. Every year, a few monkeys are sold to Israel, and hundreds of monkeys are sent to labs in the UK. In the Western world, it is common for research institutions to maintain special nonhuman primate colonies next to the labs, and farms built specifically for exporting monkeys are a very rare phenomenon. In addition, there is an international ban of over 120 airlines on transporting monkeys for experimentation. Following pressure from the Mazor Farm owners, El Al remains one of the last 12 airlines in the world that still ship primates to experimentation labs abroad.
The Mazor Farm gets its license to operate from the Israeli Nature and Parks Authority. In January 2003, the now-former Minister of the Environment, Tzachi HaNegbi, issued a formal letter recommending to the Nature and Parks Authority not to renew the farm's trade and export license. The Authority is currently considering the matter.
Click here
for a detailed document about the campaign to shut down Mazor Farm
Please help us by sending your opinion to:
Mr. Shalom Simhon, Minister of the Environment
Fax.: +972-2-6535958
E-mail:
sar@sviva.gov.il
http://anonymous.org.il/art522.html